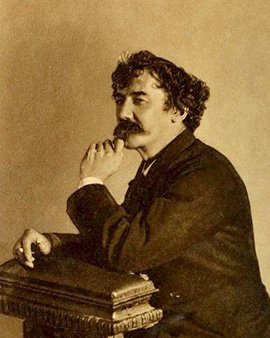 James McNeill Whistler is an American painter of the 19th century. He was born in 1834 in Lovell / Massachusetts. His father was a major in the US Army and later a railway engineer. The young Whistler grew up privileged. At the age of 17, he entered the West Point Military Academy but was dismissed for lack of discipline after three years and went to a drawing school in Paris. His paternal inheritance allowed him a decent life and Whistler immersed himself in the life of the French bohemian. He copied paintings in the Louvre, interested in Japanese prints and
oriental art
. In 1858 he turned to etching, created lithographs and painted umpteen Japanese motifs. In 1872 he published his famous picture, a portrait of his mother entitled "
Arrangement in Gray and Black
". Although his critics called Whistler very eccentric, he was a gifted hard-working artist whose work includes about 400 oil paintings, 200 watercolors, 300 pastel drawings, 450 etchings, and 190 lithographs.